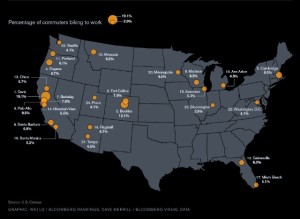 I'll bet you've notice more people commuting to work by bicycle over the past few years.
I just moved away from one of America's best cities for bicycle commutes — Ann Arbor, Mich. — but I now live next to another one of the best, Tempe, Ariz. They've both college towns and that seems to be an attribute of many of the nation's leading bicycling cities.
Take a look at this wonderful Bloomberg graphic on the top places where people get to work on two wheels. Is your town on it? What will it take to land your town on it?