Millions of people are driving less, and some are even giving up their cars all together. In our new eBook, Curbing Cars: America's Independence From The Auto Industry,  published Tuesday by Forbes, I make some suggestions on how the auto companies can play a role in the new transportation reality.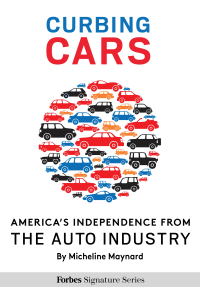 One idea: create a new Model T, a car that that can appeal broadly to the public, and yet be affordable and efficient. That's critical, given that the average new vehicle now costs around $33,000. Parking, repairs, insurance and maintenance all add up to the expense of owning an automobile.
Here's what I say in an excerpt on Forbes.com.
"There's an opportunity for some smart company to build the next car for the masses. There is certainly a precedent for doing so. The original Model T put the car within the reach of the American middle class for the first time, and as cheaper used versions became available, the demographic got pushed down even further to the working class.
From 1910 through 1930, the automobile industry attracted new customers and auto sales boomed. But then there came a 15-year period in which auto sales stalled, first because of the Great Depression, and then because cars weren't available during World War II.
What happened to revive the American car market? Prosperity returned, of course, but there was also a successor to the Model T that put millions of people into cars they could afford: the Volkswagen Beetle. It was a global, not just American, phenomenon and caught buyers' attention for a number of reasons.
Americans have shown that once a product is hot, they are willing to buy millions of them. We've become wedded to our mobile devices, which many young people consider more important than owning an automobile. The mindset for buying an innovative vehicle is there, if someone can create the right package."
You can buy Curbing Cars: America's Independence From The Auto Industry at Amazon and Apple now. We'll have more from the book in days to come.