By Micheline Maynard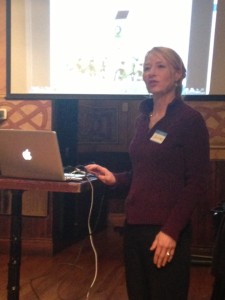 Bike sharing is exploding across the United States, with new programs popping up all over the United States. The nation's bike sharing fleet has already doubled in 2013, and it's expected to double again in 2014.
One of those new programs will be in my home town, Ann Arbor, MI. It seems an ideal spot for bike sharing, because of an active bike community, tens of thousands of students from all over the world, and a lot of bike lanes already in place over its 27.7 square miles.
This past week, I got some details about what's planned for Ann Arbor from Heather Seyfarth, program manager for the Clean Energy Coalition, which is spearheading the local program. She and I spoke to the annual meeting of the Washtenaw Bicycling and Walking Coalition (my talk focused on the Curbing Cars project).
Ann Arbor's program, which is about to be named, will be similar to other bike sharing programs across North America, but it has one main difference: it isn't associated with Bixi, which oversees the programs in Montreal, Toronto and New York, among other places, and which is on shaky financial ground.Instead, the Ann Arbor program will be part of B-cycle, which operates 18 programs around the United States, including those in Boulder, CO, and Madison, Wi. In fact, members of the Ann Arbor bike sharing program will be able to access all the other B-cycle systems as part of their membership, which is expected to cost around $60 a year.
Bike sharing has been talked about in Ann Arbor for quite a while, but the system has only come together over the past two years. There are a couple of important aspects at play.
1) Money. The program is launching with an initial outlay of about $1.5 million, and four partners: the Clean Energy Coalition, The Ann Arbor Transportation Authority; the city and the University of Michigan. That includes $750,000 in capital funding, most of which is coming from a federal grant. U-M is providing $200,000 a year for three years for operating funds; the remaining $200,000 has to be raised through membership fees and sponsorships.
2) Locations. At the outset, there will be 14 bike docks around Ann Arbor, and 125 bikes. That might seem kind of small, compared with the vaster systems in New York and Chicago, but it's comparable to other systems when they got on their feet. Greenville, S.C., for instance, started with six docks, while Madison has 20 and Boulder 22. The docks will be located in three parts of Ann Arbor: downtown, the central U-M campus, and the north campus area.
The organizers have been scouting locations around town with B-cycle's help. The first priority is to make sure the docks are in spots where the bikes will be used, then think about an expansion, Seyfarth explained. That means the bikes won't initially be in outlying neighborhoods (like mine), but Seyfarth says the group will be looking at where to go next. "We hope to make it a robust system so people can use it all over town," she said.
3) Helmets. The program will begin without an accompanying system for renting helmets, which is pretty much the norm for the country's bike sharing systems. However, Seyfarth said Ann Arbor bike share has talked about arrangements with local merchant located near the bike docks, who might make a choice of helmets available for people who show a membership tag. There are no plans, as yet, for any kind of helmet program, like the HelmetHub plan that has finally kicked off in Boston after many delays.
Ironically, the first HelmetHub kiosk opened just a week before Boston is scheduled to start putting Hubway bikes to bed for the winter. There also are no plans, Seyfarth said, for a year around system, like those in Denver and Chicago. The first Ann Arbor bike sharing bikes should be on the city streets in April, snow melt allowing.
She raised the possibility that local residents might be asked to help put the bikes together, and then ride them in a fleet to their docks. Oh, and what color are the bikes, you might ask? Blue, of course. This is Ann Arbor, after all.
P.S. It looks like Toronto's troubled Bixi program may have gotten a reprieve. Its city council, which has been rocked by the controversy involving Mayor Rob Ford, agreed Friday to look for a deal to save the bike sharing plan.