President Trump's decision last week to withdraw from the Paris Agreement was not a surprise. He talked about it many times during the 2016 election campaign.
But the outraged reaction to it from every corner of the world showed that the move was a shock.
Rather than join the global effort to address climate change, the U.S. now will be on the outside looking in. Before the U.S. withdrew, 196 countries agreed to abide by a deal in the making since 2009.
The implications couldn't be greater for the future of transportation. Here's why.
Unpredictability. Under the Paris Agreement, car makers, transit providers and commuters all knew what to expect: efforts to reduce global warming by 1.5 degrees centigrade. One of the simplest ways to do that is  to raise fuel economy standards. By using less fuel, cars emit less carbon dioxide pollution.
However, any companies that think Trump's decision lets them off the hook would be misinformed. On Thursday, 187 mayors from around the U.S. pledged to "adopt, honor and uphold" the Paris Agreement, and it's likely that more will be joining the group in coming days
These mayors represent 32 million people in the country's biggest cities, including New York, Los Angeles, Houston, Chicago, Austin, Des Moines, and many more. Marty Walsh, the mayor of Boston, responded by lighting Boston City Hall in Green (see the photo above).
"We will intensify efforts to meet each of our cities' current climate goals, push for new action to meet the 1.5 degrees Celsius target, and work together to create a 21st century clean energy economy," the mayors declared.
Presumably, this puts companies in an unpredictable position. Cars whose emissions comply with federal standards might not meet those embraced by the Climate Mayors. Some mayors may adopt stricter rules than others. An exception to the group: Detroit.
No one knows for sure what those mayors could enact, and uncertainty upsets shareholders, employees and consumers. Car companies and others could find themselves darting from one end of the country to the other in order to negotiate standards.
Technology. CEOs in the technology world blasted the decision to withdraw. Elon Musk, the CEO of Tesla Motors, declared on Twitter that he was withdrawing from the presidential councils on which he was serving. It was a bold step for a company whose market capitalization recently exceeded that of General Motors.
Apple CEO Tim Cook, in a memo to employees, said he tried to dissuade Trump from the action, but failed. ""Climate change is real and we all share a responsibility to fight it. I want to reassure you that today's developments will have no impact on Apple's efforts to protect the environment," Cook said.
Uber was unhappy, too. Said Andrew Salzberg, head of transportation policy and research at Uber. "Addressing rising temperatures is vital to ensuring the continued health and prosperity of populations across the globe."
Companies like Amazon and Microsoft all weighed in. Their ire is significant, given the roles those companies are playing in the future of transportation.
Trump acted early in his transition to reach out to tech CEOs and executives. Now, thanks to his decision on the Paris Agreement, many are aligned against him.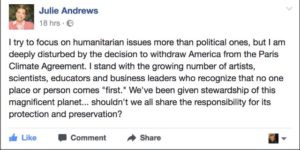 Taking sides. In just a few days since Trump's decision, some of the world's most prominent business leaders have done more than just voice their displeasure.
Former New York City mayor Mike Bloomberg, founder of the news and data company that bears his name, said he would offer up to $15 million to the United Nations to support the agency that helps countries comply with the agreement.
Robert Iger, the CEO of the Walt Disney Company, joined Musk in resigning from the Trump advisory counsel. Lloyd Blankfein, CEO of Goldman Sachs, wrote his first ever tweet to denounce the step.
By contrast, there have been words but little action from Detroit auto companies.
On Facebook, General Motors CEO Mary Barra said, "General Motors continues to be committed to a better environment for everyone and better fuel economy for our customers. We acknowledged long ago that climate change is real, and that lowering emissions is both a social imperative and good business."
GM said Barra would remain on the White House Strategy and Policy Forum because it "provides GM a seat at an important table to contribute to a constructive dialogue about key policy issues."
Ford, which just dumped its CEO and installed the head of its mobility business as his replacement, issued a similar statement. But like GM, it will keep taking Trump's calls.
Given the vocal reaction from the mayors and Silicon Valley, not to mention Bloomberg's money, Detroit's response looks like it is putting self preservation ahead of principle. Compare that with the way the Weather Channel reacted to the move on its home page (image lower left).
Trump's move on the Paris Agreement is arguably one of his most controversial steps along with his travel ban, now headed to the Supreme Court, and his efforts to dismantle the Obama Administration's health care plan.
Green minded consumers may demand to know why car companies are not being more proactive. That could give Tesla even more of a halo and tarnish those in Detroit.